High Street Road Animal Hospital has been providing friendly professional care for our clients and their pets since 1960.
Our health care team consists of four vets and six nurses and we are proud to provide our clients with the highest standards of veterinary care in a large modern, purpose-built Hospital in Mt Waverley.
We know that pets are a very important part of your family and we appreciate the trust that you place in us. Our experienced health care team always strives to keep your pet as healthy and happy as possible, so that you are free to enjoy your lives together.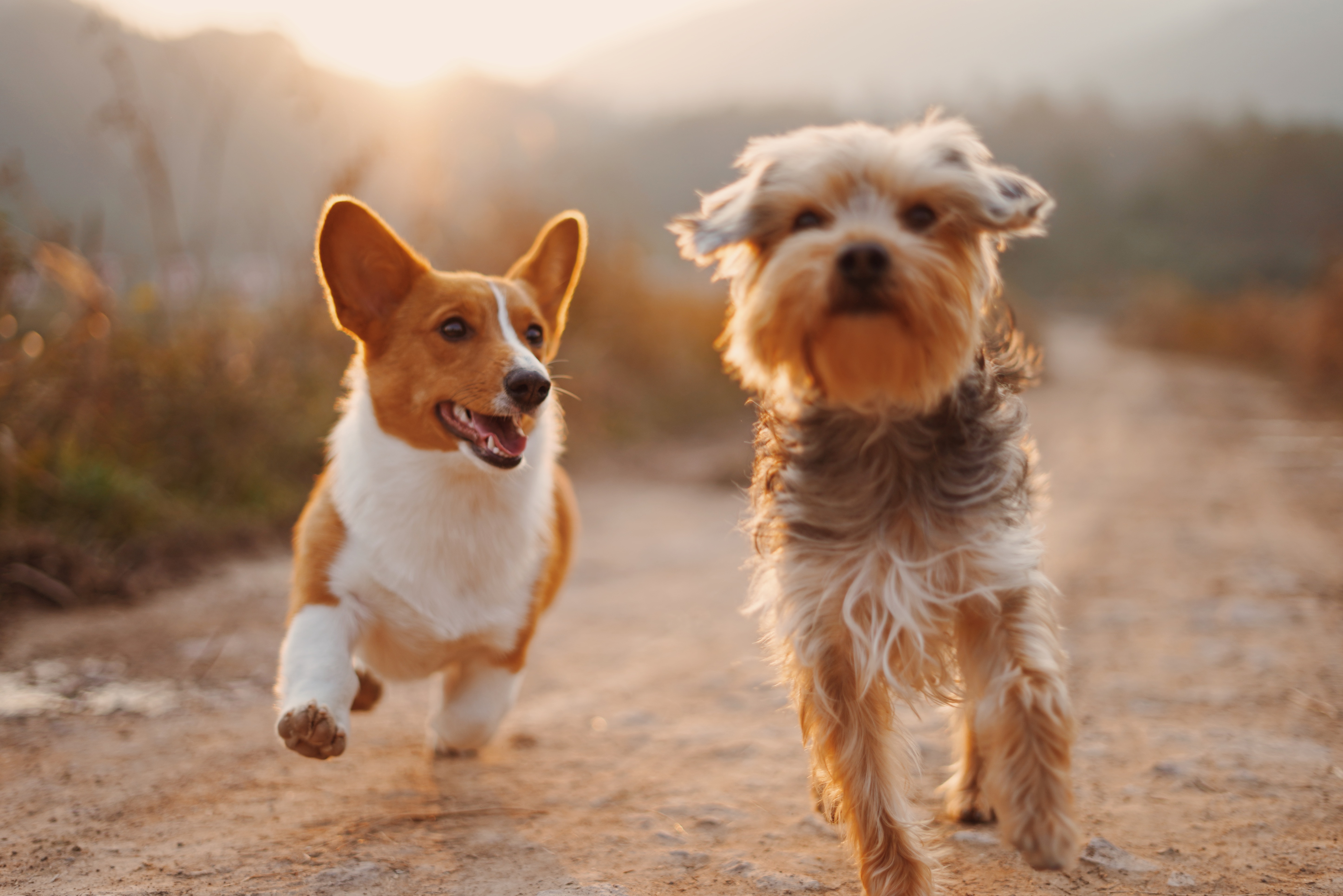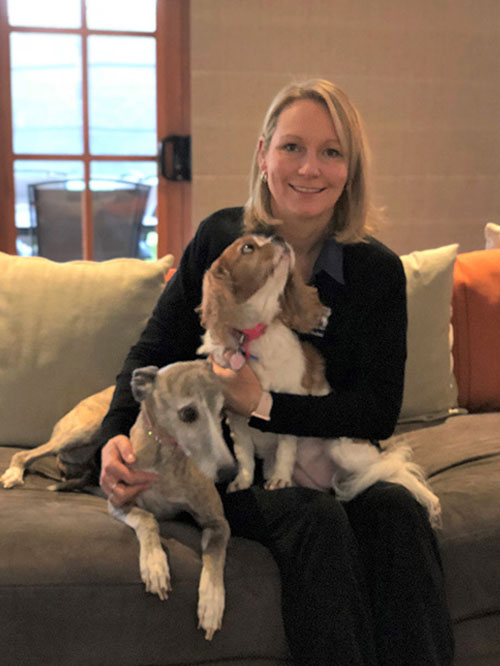 Rachel Dalsanto
Principal Veterinarian
Rachel graduated from Melbourne University in 1993. She has been a principal here at the hospital since 1999. Rachel has completed her certificate in practice management and also completed her Masters in Veterinary medicine and surgery. Rachel's special interests include surgery, radiology and medicine. Outside of work, Rachel loves spending time with her husband Neil and two daughters Stephanie and Hannah. She is pictured here with Jorja her Cavalier King Charles Spaniel.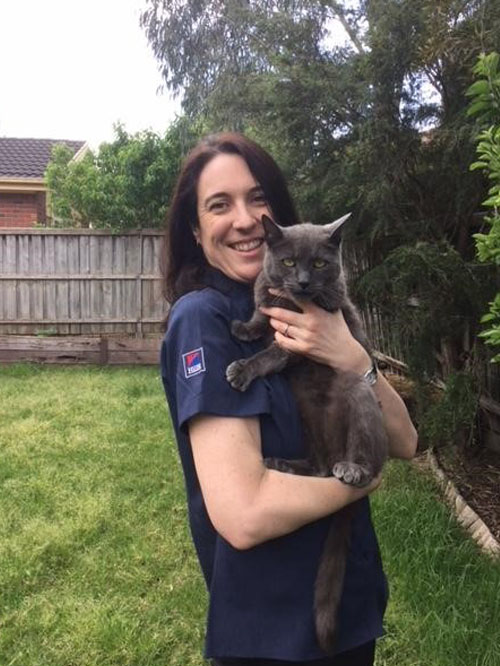 Simmone Major
Principal Veterinarian
Simmone joined our team in July 2014. Originally from Tasmania, Simmone studied veterinary medicine at Murdoch University, graduating in 1996. After a short time practising in Tasmania as a new graduate, she moved to Melbourne with her husband. Simmone has a passion for internal medicine and loves increasing her knowledge. She has two children and a cheeky Russian Blue named Pog. She would love to find a canine companion to complete her family having recently lost her beloved Dobermann Delphi. In her spare time, Simmone enjoys bike riding with her family and cheering on the Sydney Swans.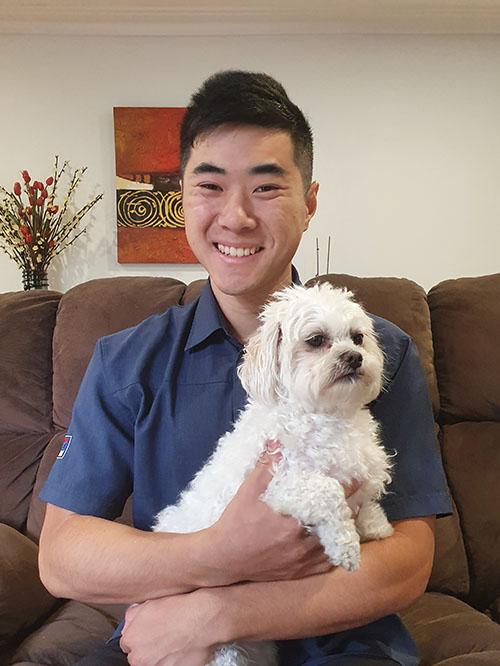 Victor joined our team at the beginning of 2021 after graduating from Veterinary Medicine at Melbourne University. He has a keen interest in both medicine and surgery, and loves his pets Kaia, a toy poodle cross shihtzu and Meow Meow, a Ragdoll cat. Victor was born and raised in the Glen Waverley area and outside of work he enjoys exploring the great outdoors, martial arts and playing the piano.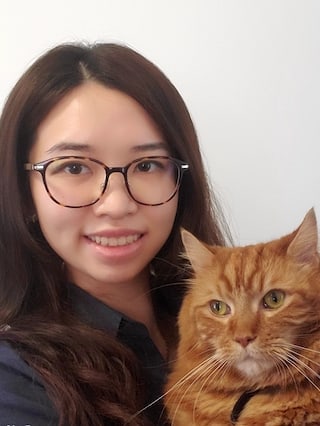 Cynthia Yeung
Veterinarian
Cynthia joined our team in early 2021. She grew up in Hong Kong and moved to Australia at 16 to pursue her dream of becoming a veterinarian. After graduating from Melbourne University in 2016, she has been working as a small animal vet with special interest in Feline medicine. In her free time she enjoys spending time with her cats, Ichiha and Haru, watching movies and baking.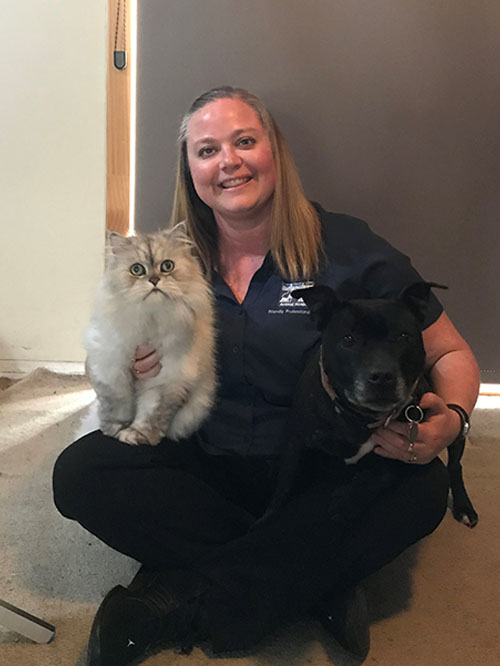 Renae Brien
Veterinary Nurse
Renae has been part of the team since 2005. She lives with her husband Gav, their daughter Reagan, their English Staffordshire Bull Terrier Malibu and their Persian x Chinchilla cat Zeus. As a family they enjoy attending Ice Hockey games as well as supporting Carlton and Melbourne Storm.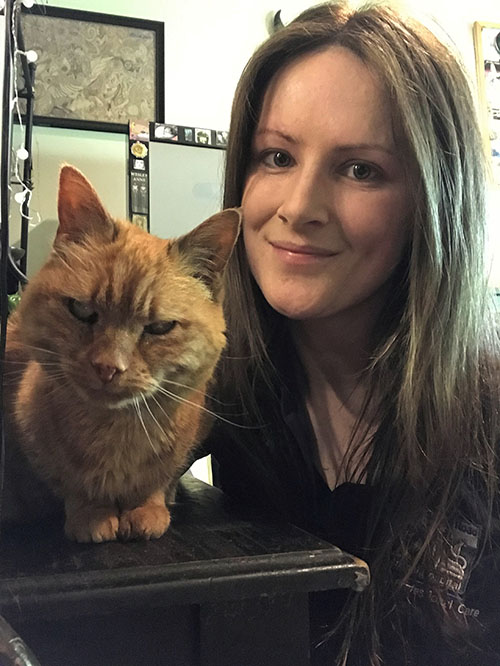 Wendy Fraser
Veterinary Nurse
Wendy joined the team in March 2008. She has completed her Certificate IV in Veterinary Nursing. Other than her love of all animals, Wendy's interests are alternative music, painting and drawing. She loves nothing more than being home with her animals and spending time with family and friends.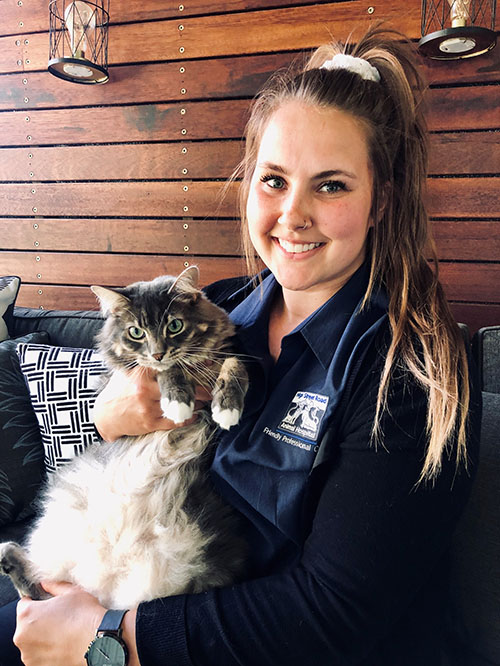 Rachel Lucas
Veterinary Nurse
Rachel joined the team in 2018 as a Trainee Nurse after following her passion and love for animals. After completing her Certificate III in Animal Studies in 2017, she will further her studies in 2019 and commence her Certificate IV in Veterinary Nursing. When Rachel isn't spending time with her family, friends and her beloved cat Sooki, Rachel is motorbike riding, camping and playing basketball.
Katie Roach
Veterinary Nurse
Katie joined our team during 2020 with previous experience as a veterinary nurse. Katie is currently completing her certificate IV in Veterinary Nursing and has shown a keen interest in surgery and pathology. In her spare time, she loves to ride her horse Holly and spend time with her two dogs Rory and Bella. Katie is currently our Cattery Manager and occasionally offers pet sitting services.
Lou Riley
Veterinary Nurse
Lou joined our team in July 2021 as a trainee nurse. She has nearly completed her Certificate IV in Veterinary Nursing. She has a cheeky tortoiseshell cat named Nala and an Australian Shepherd named Dusty. In her spare time she likes camping & 4WD, cooking and spending time with friends and family.
Call us to book in!
Book your pet in for an appointment with one of our friendly, experienced vets today!
"Friendly and welcoming"
★★★★★
Very caring staff. It is very friendly and welcoming. Our dog loves visiting this place.
– Meaghan, 5-Star Google Review
Opening Hours
Mon to Fri: 7:30am-7:00pm
Sat: 8:30am-3pm
Sun: Closed